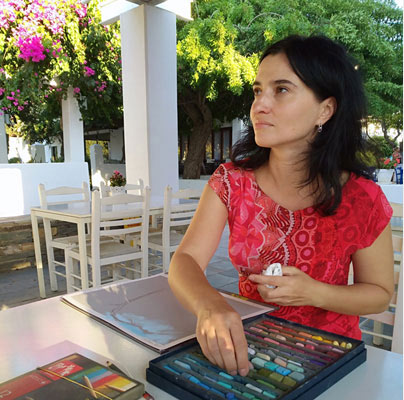 Few words about myself
My name is Vera Kavura, I live in Kiev, Ukraine. I have been drawing since childhood, and with pastels since 2017. Favorite theme - flowers, as a part of wildlife, they are natural, beautiful, and diverse. I always paint from a live bouquet used natural light, so my work begins with the composition of a bouquet, the selection of flowers based on their form and color.
A single photo cannot reflect the shine of a flower's petals; by painting a bouquet with pastel, I'm able to catch changes in the light and shadows, and even the movement of the petals.
To make smile a viewer and feel a sweet mood – this is my mission in the drawing, by means of flashing the real miracle of nature – flowers.

My blog

Catching Color Nuances – in Pastel
​ In Kyiv, the capital city of Ukraine, Vera Kavura can be found painting her favorite subject: flowers, which she describes as "natural, beautiful, and diverse." Kavura began drawing as a child and over the years experimented with different techniques until, in 2016, she discovered painting with pastels. "The pastel medium allows me to work... Read more >>>>